News
Enough is Enough! CWA Agents Demand Protection from Passenger Assaults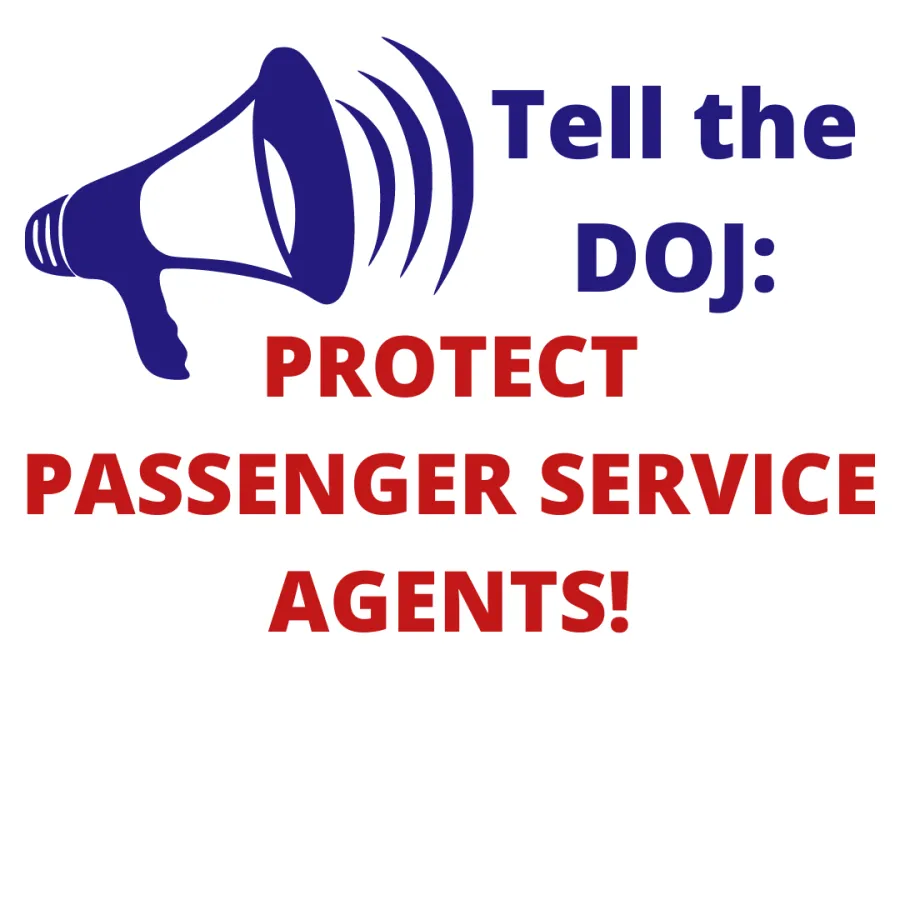 Since last year, we have seen an alarming increase in assaults on passenger service agents and other airline workers as air travel resumed after pandemic travel restrictions. We demanded stricter enforcement of laws meant to protect airport workers and the Department of Justice has responded. In January, three Delta Air Lines passengers faced federal charges for allegedly assaulting an airline security officer and a gate agent at JFK.
However, federal law enforcement agents are still not doing enough to protect CWA agents who have been on the front lines in the battle to protect the traveling public since the beginning of the pandemic. We all know that during the pandemic, we have added to our list of duties. We find ourselves enforcing federal mask mandates and securing access to the aircraft from aggressive, often physically violent passengers.
"At CLT, we've had passengers cursing at us, spitting, threatening to sue us, and physically assaulting us—all for doing our jobs," said CWA Local 3645 President Donielle Prophete. "Why isn't anyone enforcing the laws that are supposed to protect us?"
We must continue to demand real enforcement of the laws meant to protect us on the job. Together we can make sure government officials understand that passenger service agents and other airline workers are facing threats and assaults by unruly passengers every day as we simply do our jobs. And, it's past time for the federal government to enforce the law and hold criminals who attack airport workers accountable. Click here to send your message to Attorney General Merrick Garland asking him to fully enforce the laws against assaulting aviation workers today. 
It's not just CWA agents demanding justice either. Last week, we joined other transportation unions, who together represent tens of thousands of airline workers across the United States, in demanding that the U.S. government address this issue, including prosecuting abusive passengers under applicable federal law. Click here to read in full the letter we sent to the White House, Department of Transportation, Department of Homeland Security, and the Department of Justice.
The arrests of the Delta passengers in New York are a promising sign that our demands for justice are being taken seriously. In announcing the arrests, New York FBI Field Office Assistant Director-in-Charge Michael J. Driscoll said, "Anyone who thinks they can get away with this type of unruly behavior should be reminded that their actions are criminal and can result in time behind bars as a result of federal criminal charges. We are aggressively addressing this emerging threat and take all cases seriously."
"These types of incidents are all too common, but until now federal enforcement of laws against assaulting airport customer service representatives and gate agents has been rare," said Richard Honeycutt, Vice President of CWA District 3 and Chair of CWA's Passenger Service Airline Council. "We are hopeful that this represents a new commitment by the Department of Justice to providing clear guidance and support for airport police departments and local law enforcement agencies in responding to these violent attacks."
We all know all too well that unruly behavior and assaults are still rampant at our airports. Add your voice to the call for justice for CWA agents and all airport workers. Take a moment now to send a message to Attorney General Merrick Garland asking him to fully enforce the laws against assaulting aviation workers today.
CWA Member Survey Improves FAA Reauthorization Bill
OSHA Finds Piedmont Guilty in the Preventable Death of Passenger Service Agent Courtney Edwards
Remembering Passenger Service Agents Edwards and Hudson