Bargaining Updates
CWA and Envoy Air Reach Tentative Agreement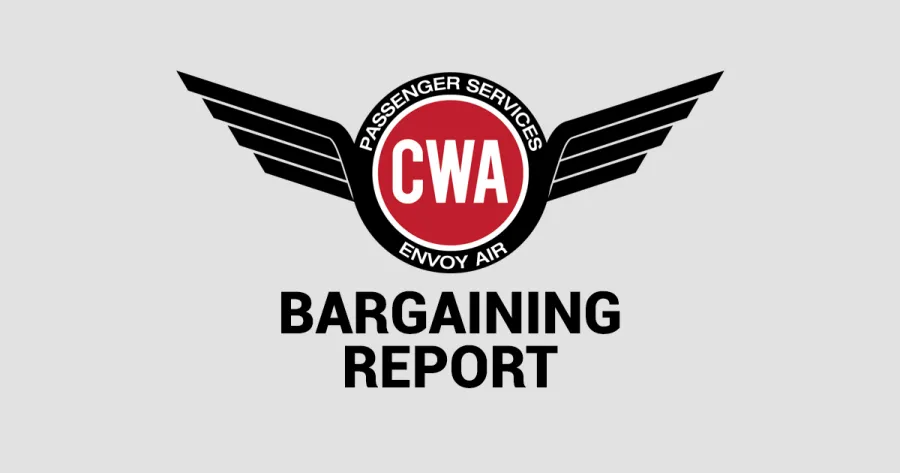 Today our CWA bargaining team reached a tentative agreement (TA) with Envoy Air for our first collective bargaining agreement.
The new TA provides for a six and a half year contract that raises wages, establishes work rules, and improves benefits and job security for nearly 5,000 Envoy Passenger Service Agents in approximately 100 cities across the United States. The agreement also includes a ratification and retention bonus based on each agent's years of service in recognition of the time spent in negotiations and to encourage retention.
According to James McKnight, a member of our CWA bargaining team, "We listened to our members' concerns after the last TA was rejected, and we've fought hard for key improvements. We believe the presence of the National Mediation Board mediator helped move the process forward in a positive way. But it was the mobilization by our members across the country that showed the company that we were united in our demand for an end to poverty wages. Your action made the difference!"
"Passenger service agents at Envoy joined together to stand up for good jobs with family-supporting wages," said CWA President Chris Shelton. "It's been a long, tough fight, but thanks to their hard work, determination, and mobilization in support of their bargaining team they have an agreement they can be proud of."
CWA will share details of the agreement with union members soon, along with procedures for voting. We'll be sending updates by email and text, so please help us make sure every agent is getting our email alerts and text messages by clicking here to invite your co-workers to sign up.
In Unity,
Pat O'Neil, Chair, CWA Bargaining Committee
Marge Krueger, Director, CWA Airline Passenger Service
De Anna Davis, Envoy Passenger Service Agent, LCH
Chris Haight, Envoy Passenger Service Agent, TVC
James McKnight, Envoy Passenger Service Agent, MIA
Janet Padgett, Envoy Passenger Service Agent, LAX
CWA and Envoy Air Reach Tentative Agreement
CWA-Envoy Bargaining Update June 20
CWA-Envoy Bargaining Update June 19