Bargaining Updates
CWA-Envoy Bargaining Update June 19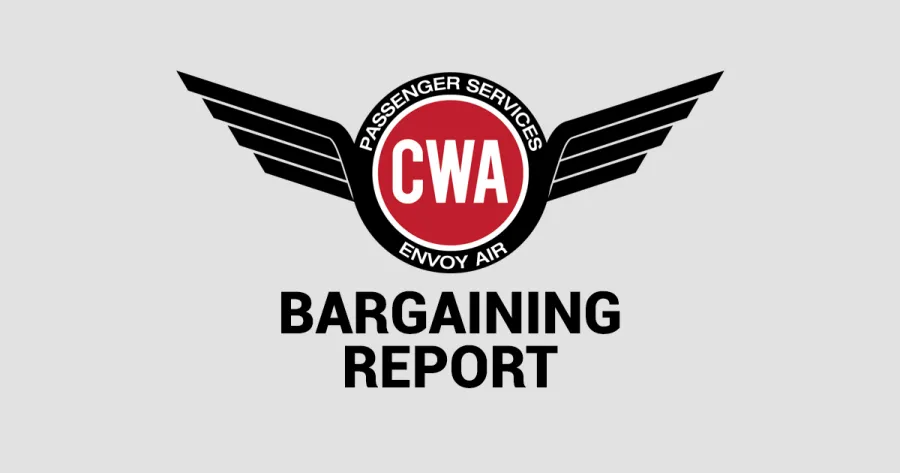 Our CWA bargaining team resumed bargaining in Pittsburgh today. Toby Lane, an agent at SGF, joined the team. To start off the session, we had a lengthy meeting with the mediator from the National Mediation Board. We explained why our proposals address the issues which are essential to reaching an agreement. The mediator then met with the company's bargaining team.  
We then made a comprehensive counter proposal to the company's proposal of May 23, 2019. Not surprisingly, the company's negotiators said they were concerned about the wage increase in our proposal. Nonetheless, we will continue to fight for an end to poverty wages and a fair contract.
The company negotiators said they would make a counter proposal by midday Wednesday. We are scheduled to meet on Wednesday and Thursday, and we will provide updates after each session.
We must continue to show our unity every day! Please wear your pins and stickers and talk to a union steward or mobilizer at your station about what you can do to get involved in our fight to end poverty wages and win a fair contract.
If you need pins or stickers or want to know how to connect with or join the Mobilization Team, send an email to info@envoyagents.org.
In Unity,
Pat O'Neil, Chair, CWA Bargaining Committee
Marge Krueger, Director, CWA Airline Passenger Service
De Anna Davis, Envoy Passenger Service Agent, LCH
Chris Haight, Envoy Passenger Service Agent, TVC
James McKnight, Envoy Passenger Service Agent, MIA
Janet Padgett, Envoy Passenger Service Agent, LAX
P.S. Help us make sure every agent is getting our email alerts and text messages by clicking here to invite your co-workers to sign up.
CWA and Envoy Air Reach Tentative Agreement
CWA-Envoy Bargaining Update June 20
CWA-Envoy Bargaining Update June 19