Bargaining Updates
CWA-Envoy Bargaining Report, April 20, 2019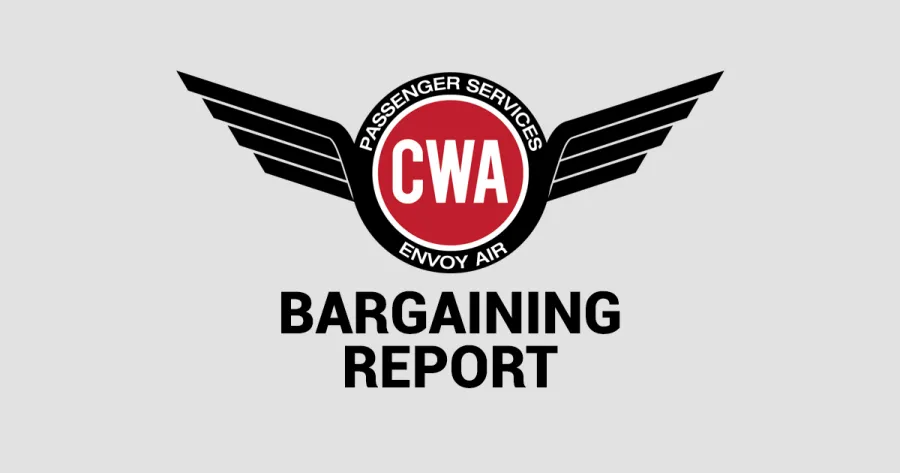 We continued to bargain with the company on Friday. However, since Envoy is refusing to respond to our comprehensive proposal until mediation begins in May, we did not accomplish as much as we had hoped. We have agreed to meet with the company and the mediator in Dallas on May 20-22 and in Pittsburgh on June 18-20.
We did make a proposal to correct problems with bidding issues when a cross utilized operation transitions to an above and below the wing operation. Although we didn't reach a final resolution on the issue, we did make progress.
Nonetheless, we find the company's determination to delay the bargaining process and their refusal to meet our demands for significant wage increases and a reduction in the length of the agreement UNACCEPTABLE! We will continue to fight for a fair contract that includes the livable wages that every Envoy agent deserves.
Our strength comes from our unity. We urge you to continue to wear your pins and stickers every day to let management at your station know that you are standing with your co-workers to demand a fair contract.
If you need more pins and stickers or are interested in joining the Mobilization Team, send a message to info@envoyagents.org today.
When we fight, we win! In unity,
Pat O'Neil, Chair, CWA Bargaining Committee
Marge Krueger, Director, CWA Airline Passenger Service De Anna Davis, Envoy Passenger Service Agent, LCH Chris Haight, Envoy Passenger Service Agent, TVC James McKnight, Envoy Passenger Service Agent, MIA Janet Padgett, Envoy Passenger Service Agent, LAX
CWA and Envoy Air Reach Tentative Agreement
CWA-Envoy Bargaining Update June 20
CWA-Envoy Bargaining Update June 19